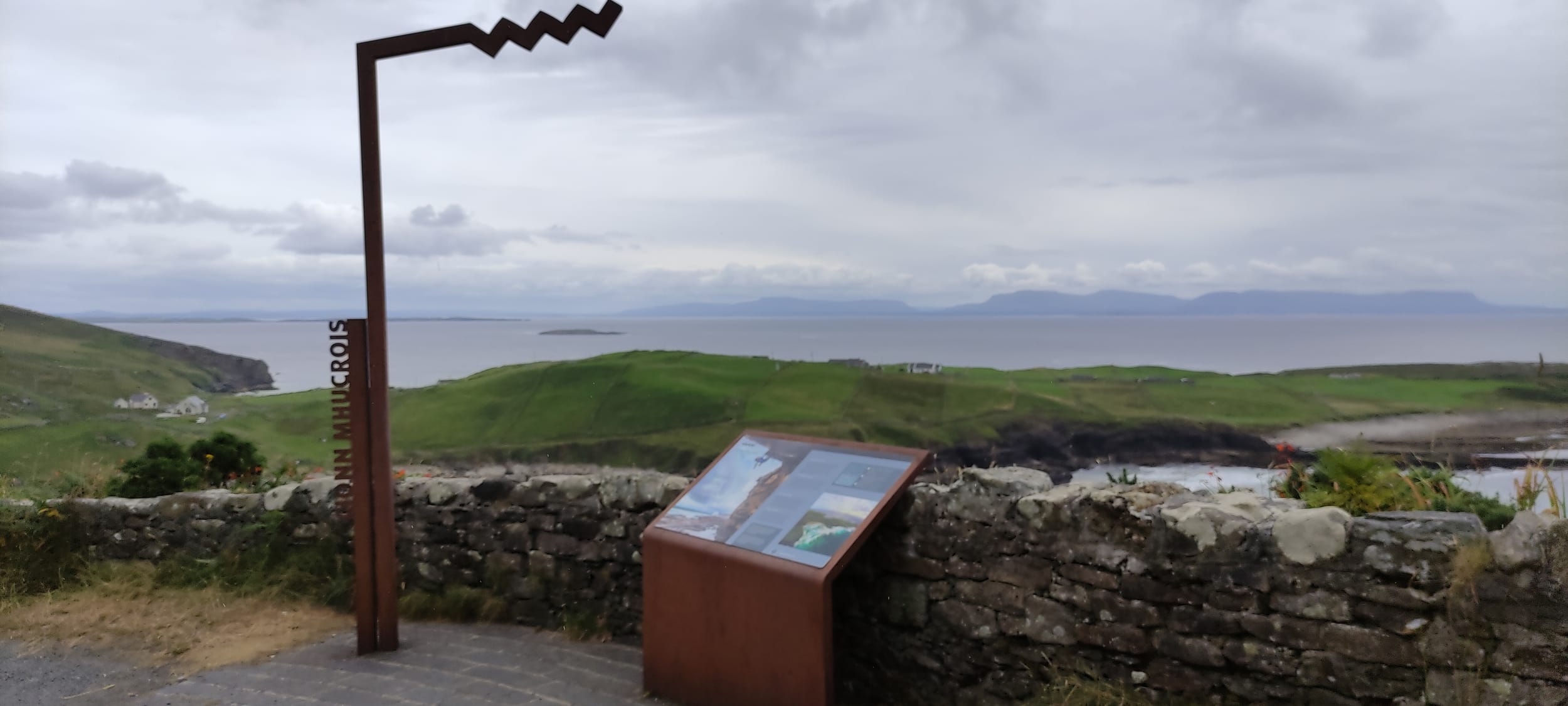 Muckros Head
pictures by Elena T.
Exploring the Natural Wonders of Muckros Head and its Cliffs
Muckros Head, located in County Donegal, Ireland, is a truly magnificent headland with stunning cliffs and breathtaking sea views. The area is known for its rugged and natural beauty, making it a must-visit destination for nature lovers and adventurers.
Isolation and Scenic Drives
Located only 10 kilometres from Killybegs and close to Slieve League, one of Donegal's most significant attractions, Muckross Head boasts breathtaking cliffs at low tide. The panoramic views from Muckross Head are unparalleled, encompassing St. John's Point and Ben Bulben in Sligo. It is one of the 39 Wild Atlantic Way discovery points in Donegal, and it is relatively isolated, offering a scenic Atlantic drive to get there.
EIRE Sign and Two Small Beaches
On the edge of the headland, there is an EIRE sign, which was used during World War II as a navigational aid for pilots. It is a fascinating historical landmark and adds to the allure of this incredible location.
Muckros Head also boasts two small beaches, one on each side of the headland, which offer visitors the opportunity to enjoy the sea and sunbathe in a secluded and peaceful setting.
Local Tea Room and Amenities
For those who enjoy a good cup of tea or a snack, there is a lovely local tea room on Muckros Head. The tea room is situated in a picturesque location and offers visitors a cozy place to relax and enjoy refreshments while taking in the beautiful views.
In conclusion, Muckros Head is a must-visit destination for those who love nature, adventure, and stunning scenery. Whether you're a history buff or just looking for a peaceful and secluded place to relax, Muckros Head and it's breathtaking cliffs and sea views are sure to leave you awe-inspired.
Pictures by Elena T.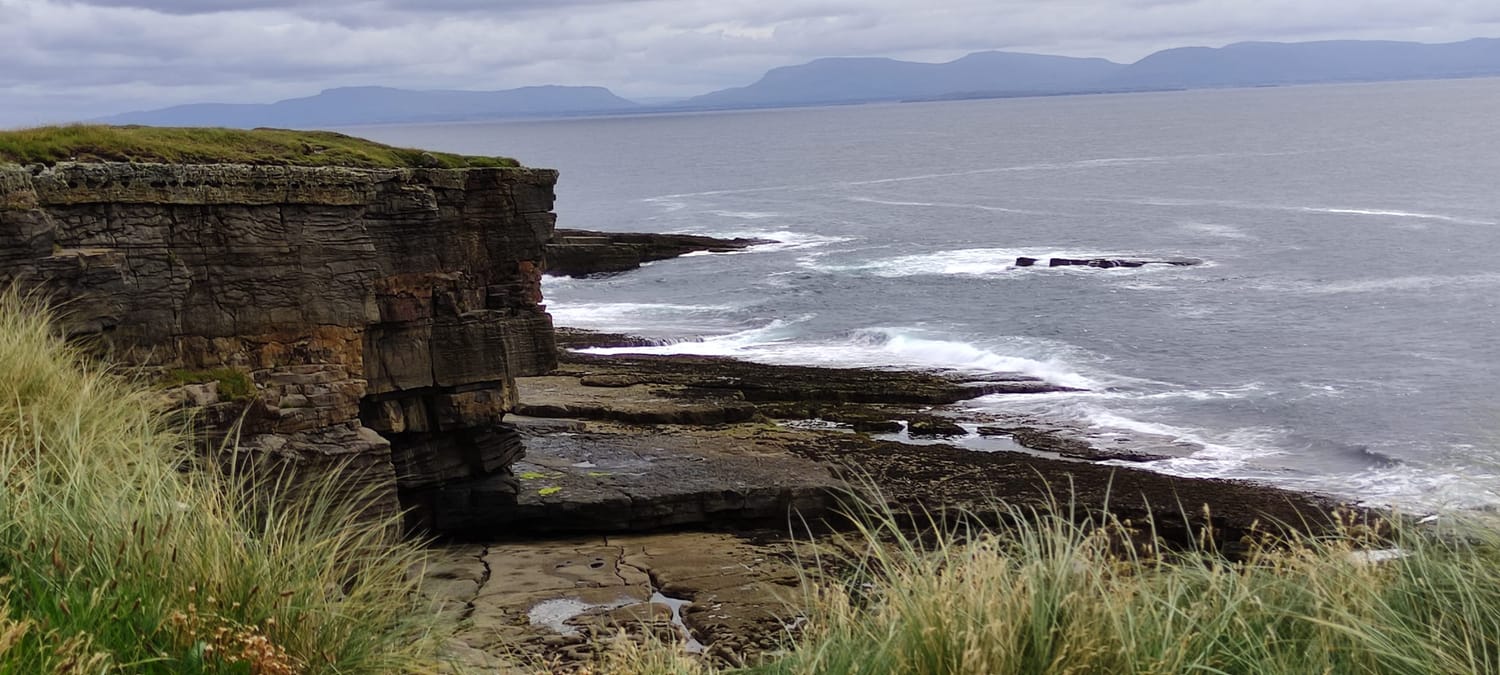 The Magnificent Cliffs of Muckros Head:
The cliffs at Muckros Head are some of the most impressive in Ireland, rising to 200 meters above the Atlantic Ocean. Visitors can walk along the cliffs and enjoy the stunning views of the surrounding landscape. The cliffs provide a stunning backdrop to the ocean, with dramatic drop-offs that make for a truly awe-inspiring sight.
Wild Atlantic Way viewpoint
The Wild Atlantic Way viewpoint is away from the head cliffs, and we highly recommend getting to the cliffs at the ocean's edge. There is a narrow car path with parking several meters from the head's cliffs. You can experience the tearoom hundreds of meters before the Muckros Head small parking with absolutely magnificent cakes is also a must-visit place. At the parking area near Muckros Head, visitors will find benches and picnic tables where they can sit and enjoy a meal with breathtaking views of the cliffs and sea. It's the perfect spot to
relax and take in the natural beauty of the area while enjoying a picnic lunch or snack.
Bird Watching at Muckros Head:
One of the most popular activities at Muckros Head is bird watching. The cliffs are home to a wide variety of seabirds, including puffins, razorbills, guillemots, and kittiwakes. Visitors can watch these birds in their natural habitat, soaring through the air and diving into the sea to catch fish. Birdwatchers will be thrilled to see these beautiful creatures up close.
Beaches Nearby
Two beaches are near Muckross Head. The first beach is Trá na nGlór (Beach of the Noise), a popular surf destination. The other beach, Trá Bán (meaning White Beach in Irish), is a few hundred meters away and is a family-friendly beach that is safe for swimming. This beach has a public car park and toilets during the summer months.
Overall, Muckros Head is a truly magical place filled with natural beauty and wonder. Whether you're an outdoor enthusiast, a nature lover, or just looking for a peaceful escape from the hustle and bustle of everyday life, Muckros Head is the perfect destination to explore the natural wonders of Ireland.
Tips for Travelers:
Bring your camera: Muckros Head offers stunning natural beauty that is perfect for photography. Make sure to bring your camera and capture the magnificent views of the cliffs, beaches, and wildlife.
Wear appropriate footwear: The hiking trails at Muckros Head can be uneven and rocky, so it is essential to wear sturdy and comfortable shoes.
Respect nature and wildlife: As you explore Muckros Head, make sure to respect nature and wildlife by staying on the marked trails and avoiding disturbing any animals.
Check the weather: The weather in Ireland can be unpredictable, so make sure to check the weather forecast before you visit. It is best to plan your visit on a clear day to enjoy the breathtaking views.
Visit the nearby beaches: Muckros Head is home to two stunning beaches, Trá na nGlór and Trá Bán. Make sure to visit these beaches and enjoy swimming, surfing, or just relaxing on the sand.
Be aware of the narrow path to the head parking: The road leading to the parking area at Muckros Head can be narrow and winding. It is essential to drive slowly and be aware of other vehicles, pedestrians, and cyclists.
Visit at low tide for the best views: The cliffs at Muckros Head are at their most impressive during low tide. If possible, plan your visit during low tide to see the stunning views of the cliffs and surrounding landscape.


Distance from:
Letterkenny - 87.5 km
Buncrana - 121 km
Bunbeg - 73.3 km
Donegal Town - 38.1 km
Derry - 71.1 ml
Visit more viewpoints in Donegal