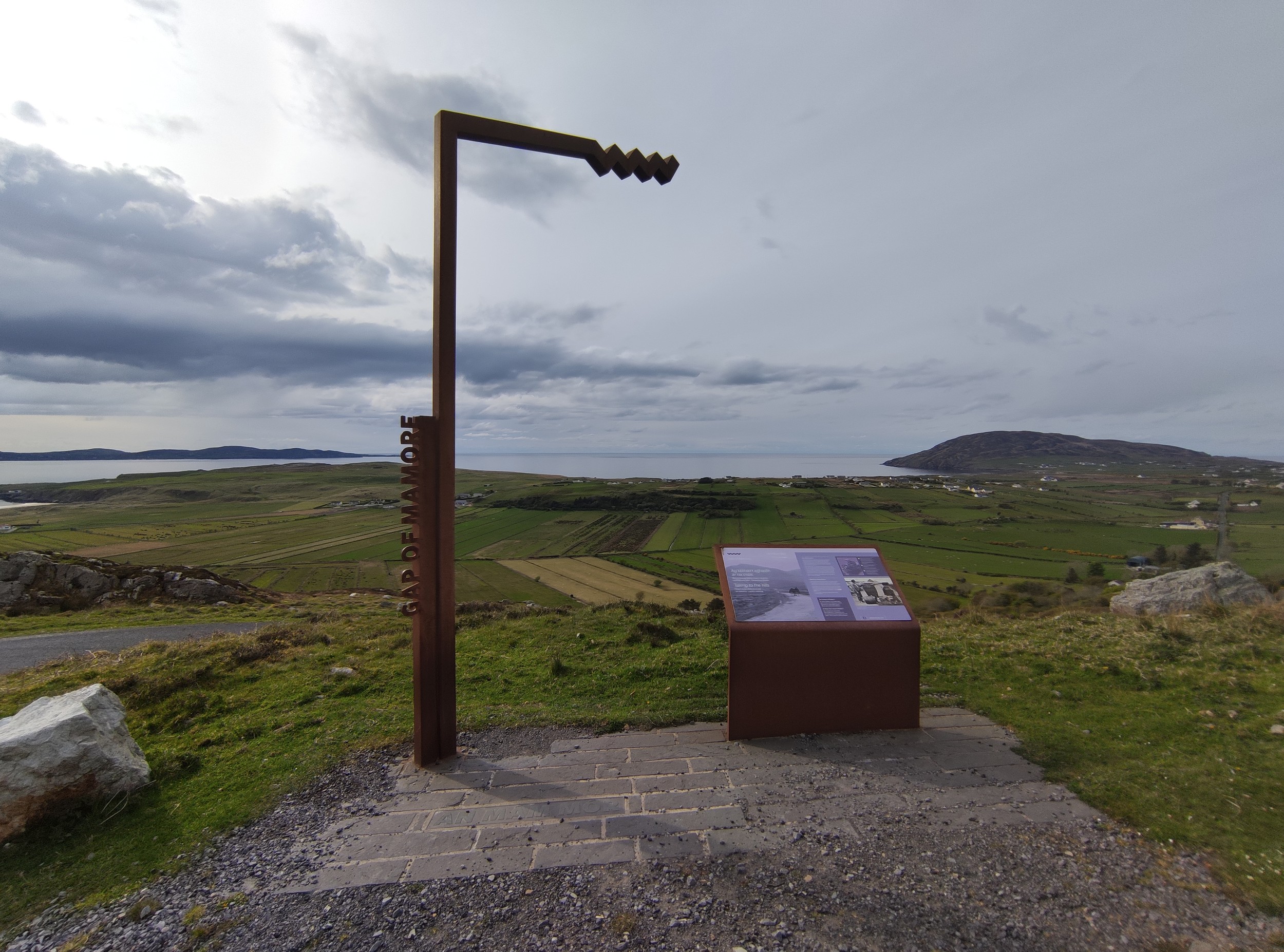 Mamore Gap
Inishowen
by Elena T.
The road to that point and the view will take your breath away.
The Gap of Mamore is a must-visit if you're looking for an off-the-beaten-path destination in Ireland. Located in the scenic Inishowen peninsula in Co. Donegal, this narrow mountain pass offers breathtaking views of the surrounding landscape.
The drive to the gap is an adventure in itself. The winding roads offer spectacular views of the countryside and the coast. Make sure to take your time and stop to take in the scenery.
Once you reach the gap, you'll be rewarded with stunning mountains and ocean views. The gap is a natural amphitheatre with steep cliffs on either side. You can park your car and take a walk along the road. From the car park begins a hiking trail so you can hike up to the top of the pass for even more breathtaking views. Do not miss the holy well of St. Eigne, which is nearly on the road's highest point.
The surrounding landscape is dotted with sheep farms and small cottages, giving you a glimpse into rural life in Ireland.
Also, the Gap of Mamore is a part of Wild Atlantic Way stops and Inishowen 100 Route, which takes you to the Inishowen Peninsula's key attractions. The route is a 100-mile scenic drive around the Inishowen Peninsula, showcasing the best the area offers.
Tips for Visiting:
Wear sturdy shoes if you plan on hiking to the top of the gap.
Bring a camera to capture the stunning views.
If you're visiting during the summer months, be prepared for crowds. The gap is a popular spot for tourists and locals alike.
Take your time and enjoy the drive. The journey to the gap is just as beautiful as the destination itself.
In Conclusion
The Gap of Mamore is a true gem in Inishowen, Co. Donegal. Its breathtaking views, rich history, and proximity to other vital attractions make it a must-visit destination for any tourist to Ireland. So if you're looking for a unique and off-the-beaten-path adventure, add the Gap of Mamore to your itinerary.
Pictures by Elena T.


Distance from:
Letterkenny - 54.7 km
Buncrana - 13.7 km
Bunbeg - 104 km
Donegal Town - 96.7 km
Derry - 24.6 ml
Visit more viewpoints in Donegal