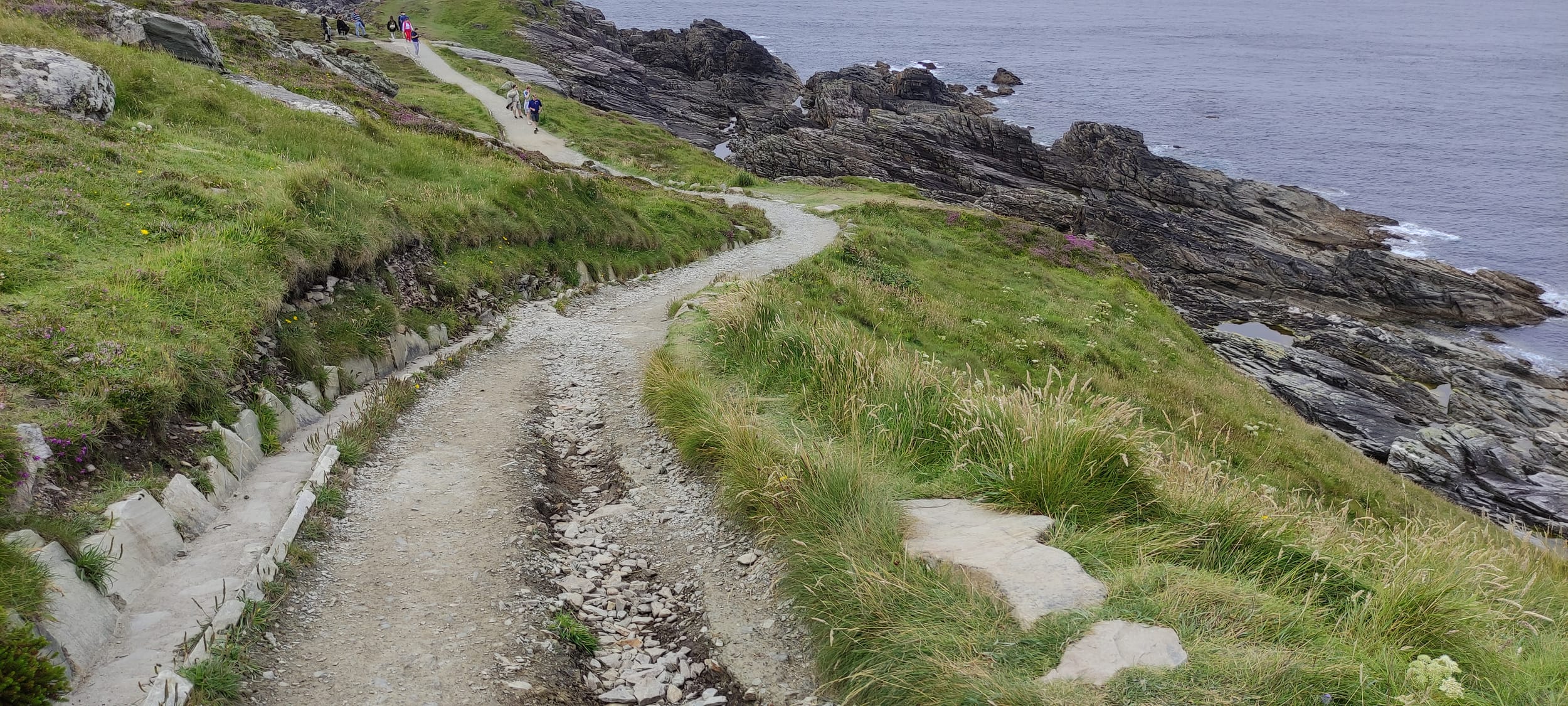 Malin Head
Cionn Mhálanna
by Elena T.
Discover the Wild Beauty of Malin Head, Ireland's Northernmost Point
Malin Head, located on the Inishowen Peninsula in Co. Donegal, is the most northern point of Ireland. It is a popular tourist destination, especially during summertime when the area is bustling with visitors.
The first thing you will notice when arriving at Malin Head is the strong winds. However, don't let this discourage you, as the stunning views make it well worth a visit. The large car park is often full during the peak season, so it's best to arrive early to secure a spot.
Hiking Along the Cliffs and Noteworthy Attractions
One of the main attractions of Malin Head is the walk along the edge of the cliffs. The route takes you past Hell's hole and rock stacks and allows you to go as far as you are brave enough to walk. It is important to exercise caution and be careful, as some parts can be quite treacherous.
Spectacular Views and Amenities
From the west side, you will find the metal sign for the Wild Atlantic Way discovery point. There is also an old Lloyds Signal Tower and a stone written "EIRE 80", which was used as a navigational aid during World War II.
During the season, there is a coffee van in the car park where you can grab a hot drink and take in the stunning views. Additionally, public toilets are available for visitors.
Overall, Malin Head is a must-visit location for anyone travelling to Co. Donegal. With its stunning views, unique landmarks and beautiful walks, it's a place that will leave a lasting impression on anyone who visits.
pictures by Elena T.
Tips for Visitors:
Dress appropriately: Malin Head is known for being very windy, so make sure to wear warm and windproof clothing.
Watch your step: The cliffs at Malin Head can be dangerous, so be careful when walking along the edge. Stay on designated paths, and don't get too close to the edge. Wear proper shoes for walking on uneven terrain and along the cliffs, as the paths can be rocky and slippery. It's important to prioritize your safety while enjoying the stunning views.
Plan ahead: Malin Head can be very busy during the summer months, so plan ahead and arrive early to avoid crowds.
Take your time: Malin Head is a beautiful place, so take your time to explore and enjoy the stunning views. Don't rush your visit.


Distance from:
Letterkenny - 80.9 km
Buncrana - 38.7 km
Bunbeg - 130 km
Donegal Town - 123 km
Derry - 33.4 ml
Visit more Wild Atlantic Way places in Donegal