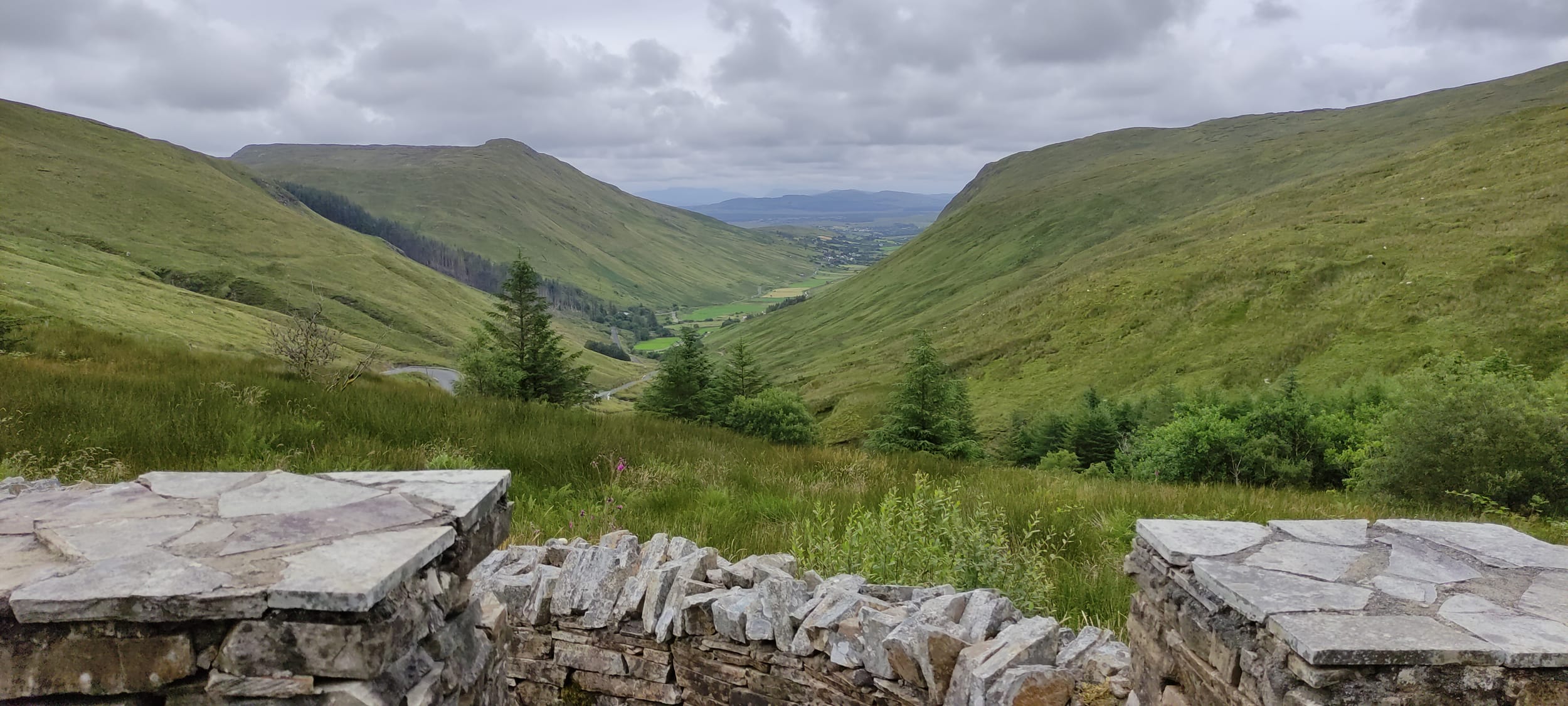 Glengesh Pass
Malaidh Ghleann Gheis
by Elena T.
Glengesh Pass: An Enchanting Journey through the Mountains of Donegal
Nestled high in Crocknamurrin Mountain, Glengesh Pass is one of the most scenic drives in Donegal, Ireland. The winding road takes you through the breathtaking countryside, with stunning views of the valley towards Ardara. The pass is one of the Wild Atlantic Way Discovery points in Donegal, and it is a must-visit for any traveller looking to explore the natural beauty of this region.
Drive through the Mountains and Enjoy the View
As you drive along the winding road of Glengesh Pass, you will be surrounded by picturesque landscapes and stunning mountain views. The road offers a spectacular vantage point to appreciate the natural beauty of the area. The valley below offers a glimpse of the traditional Irish town of Ardara, which is known for its heritage, culture, and friendly locals.
Take a Break and Relax at the Viewpoint
The view from the Glengesh Pass viewpoint is simply breathtaking. It is a perfect spot to take a break, relax, and appreciate the stunning scenery. There are plenty of picnic benches and a refreshment caravan that offers tea, coffee, and treats. You can spend some time here and take in the beauty of the mountains and the valley below.
Experience the Magic of the Wild Atlantic Way
Glengesh Pass is one of the 39 Discovery points of the Wild Atlantic Way in Donegal. The Wild Atlantic Way is a 2,500 km long coastal driving route that stretches from Donegal to Cork, offering some of the most spectacular views in Ireland. The route is an unforgettable experience, allowing travellers to explore the rugged and wild coastline of Ireland.
In conclusion, Glengesh Pass is a must-visit for anyone travelling to Donegal. The winding road, stunning views, and fresh mountain air are a true delight for the senses. Take your time to drive through this picturesque area, and don't forget to stop and appreciate the views from the viewpoint. The pass is a hidden gem that offers a unique and enchanting experience that you won't forget.
Pictures by Elena T.


Distance from:
Letterkenny - 62.4 km
Buncrana - 102 km
Bunbeg - 53.3 km
Donegal Town - 35.7 km
Derry - 59.1 ml
Visit more viewpoints in Donegal