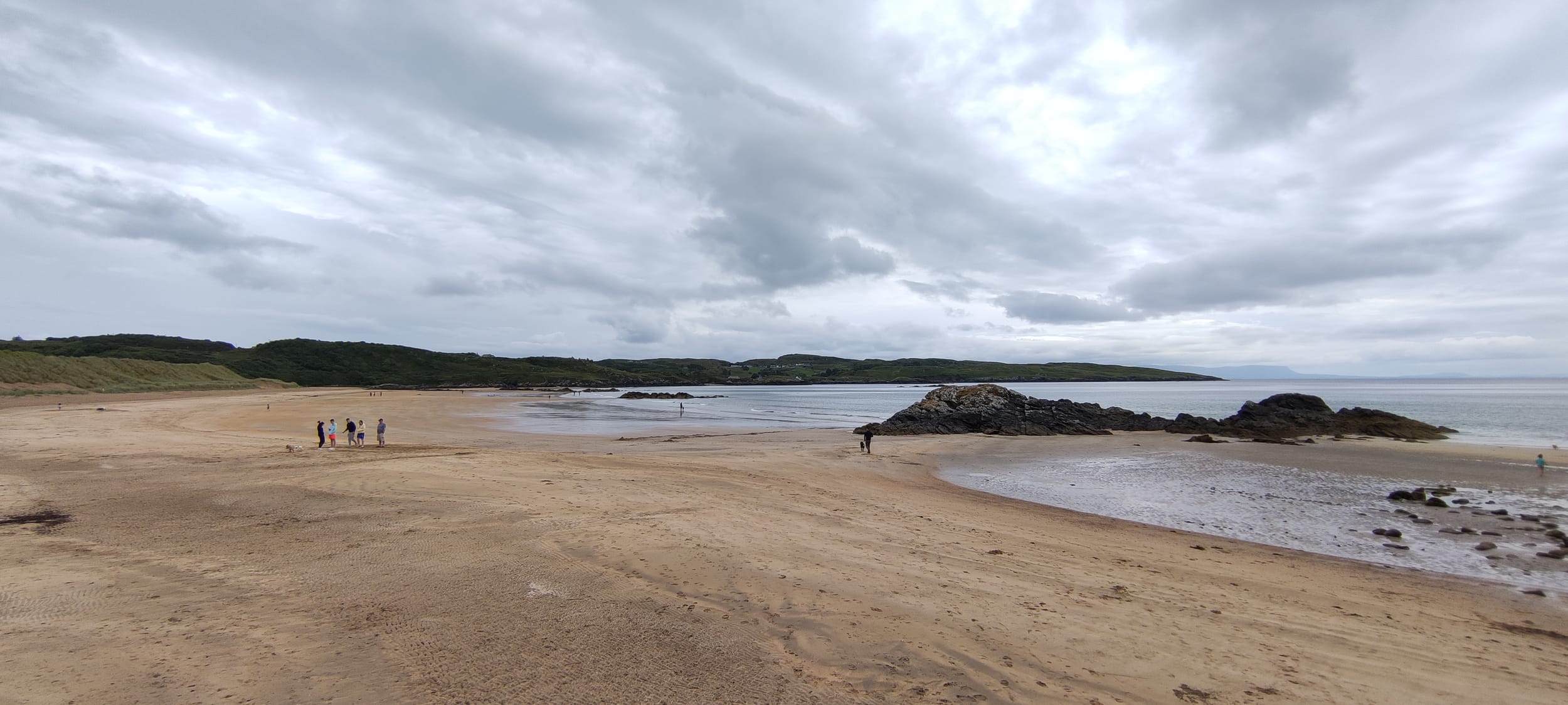 Fintra Bay
(Bá Fhionntrá)
by Elena T.
Fintra Bay: A Hidden Gem of Donegal
Tucked away in the northern reaches of Ireland, Donegal is a stunningly beautiful and rugged county that is home to some of the most breathtaking scenery in the world. While most visitors are drawn to the more well-known sights, such as the Slieve League Cliffs or the Glenveagh National Park, one hidden gem is not to be missed - Fintra Bay.
Located just a few miles outside the bustling town of Killybegs, Fintra Bay is a long stretch of golden sand that curves around a sheltered cove, backed by high cliffs and rolling hills. The beach is one of the most picturesque in the area, with crystal-clear waters that shimmer in the sunlight and an expanse of soft sand that invites visitors to stroll along its length.
One of the most notable features of Fintra Bay is the contrast between the surrounding landscape's wild beauty and the beach's peaceful serenity. The cliffs tower above the sand is covered in heather and gorse, with a network of walking trails offering spectacular views across the bay and out to sea. The hills that rise up behind the beach are dotted with farmhouses and sheep, lending an air of rural tranquillity to the area.
Despite its unspoiled natural beauty, Fintra Bay is surprisingly accessible. A car park is just a short walk from the beach, and the area is well-signposted from Killybegs. In addition, there are plenty of amenities nearby, including public restrooms and picnic areas, making it an ideal spot for families and groups.
For those who are looking for a more active experience, there are plenty of options in the area. Surfing is popular on the beach, with a number of local operators offering lessons and equipment rental. The walking trails that crisscross the cliffs offer a range of challenges, from gentle strolls to more demanding hikes, while the nearby town of Killybegs is a hub for boating and fishing activities.
All in all, Fintra Bay is a must-visit destination for anyone travelling to Donegal. Its stunning natural beauty, tranquil atmosphere, and range of activities offer something for everyone.
So why not pack a picnic, put on some sunscreen, and head out to discover this hidden gem for yourself?
Pictures by Elena T.


Distance from:
Letterkenny - 80.4 km
Buncrana - 114 km
Bunbeg - 65.9 km
Donegal Town - 31 km
Derry - 66.7 ml
Visit more stunning beaches in Donegal