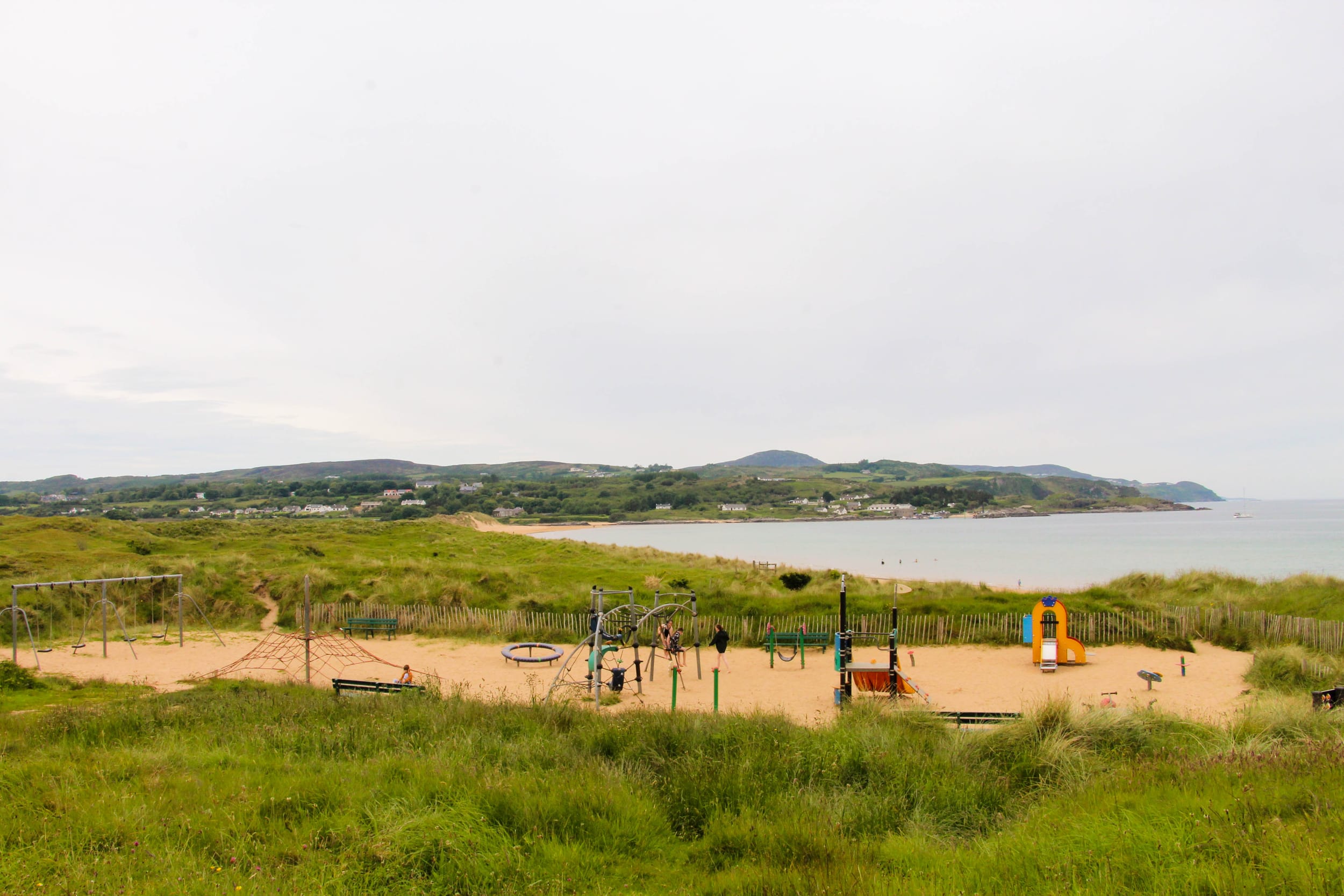 Culdaff Beach
Inishowen
pictures by Elena T.
Discovering the Best of Culdaff Beach: Playground, Dolphins, and More
Culdaff beach is a blue flag beach located on the northwest side of Inishowen in County Donegal, Ireland. This stunning beach is a popular destination for families and visitors alike, offering a range of facilities and natural beauty that can be enjoyed throughout the year.
The beach is a designated Wild Atlantic Way stop and is widely regarded as one of the most beautiful beaches in the country. With its long stretch of sandy shoreline, crystal-clear waters, and stunning views of the surrounding coastline, Culdaff beach is a truly special place that is well worth a visit.
Visitors to Culdaff beach can enjoy a range of facilities, including a car park, ice cream and coffee vans, benches for picnicking, and a playground for kids. There is also a designated area for caravans and campervans, making it a great spot for a day trip or a longer stay.
While Culdaff beach can get busy during the summer months, there are plenty of secluded areas where visitors can escape the crowds and enjoy the natural beauty of the surrounding landscape. And for those who are lucky enough to be there at the right time, the chance to see dolphins jumping in the water is an experience that will never be forgotten.
Overall, Culdaff beach is a great place to visit for anyone who loves the outdoors, and the perfect destination for a family day out, a picnic with friends, or a peaceful stroll along the shore.
Pictures by Elena T.
Tips for Visitors:
Check the weather forecast before going to the beach, as windy or rainy conditions can make it less enjoyable.
If you're planning to have a picnic, bring a blanket or beach chairs and plenty of food and drinks.
Wear sunscreen and bring hats and sunglasses to protect yourself from the sun.
If you're traveling with kids, make sure to supervise them closely, especially in the water.
Take a walk along the beach and explore the different areas, including the rocks and small beaches on the south side.
If you're interested in seeing dolphins, try to visit during the summer months when they are more commonly spotted in the area.
Follow the beach rules and regulations, including keeping your dog on a leash if you bring one, and respecting the blue flag season regulations.
Lastly, remember to leave the beach clean and take any trash with you when you leave.


Distance from:
Letterkenny - 67.8 km
Buncrana - 30.2 km
Bunbeg - 117 km
Donegal Town - 110 km
Derry - 25.3 ml
Visit more beautiful beaches in Donegal