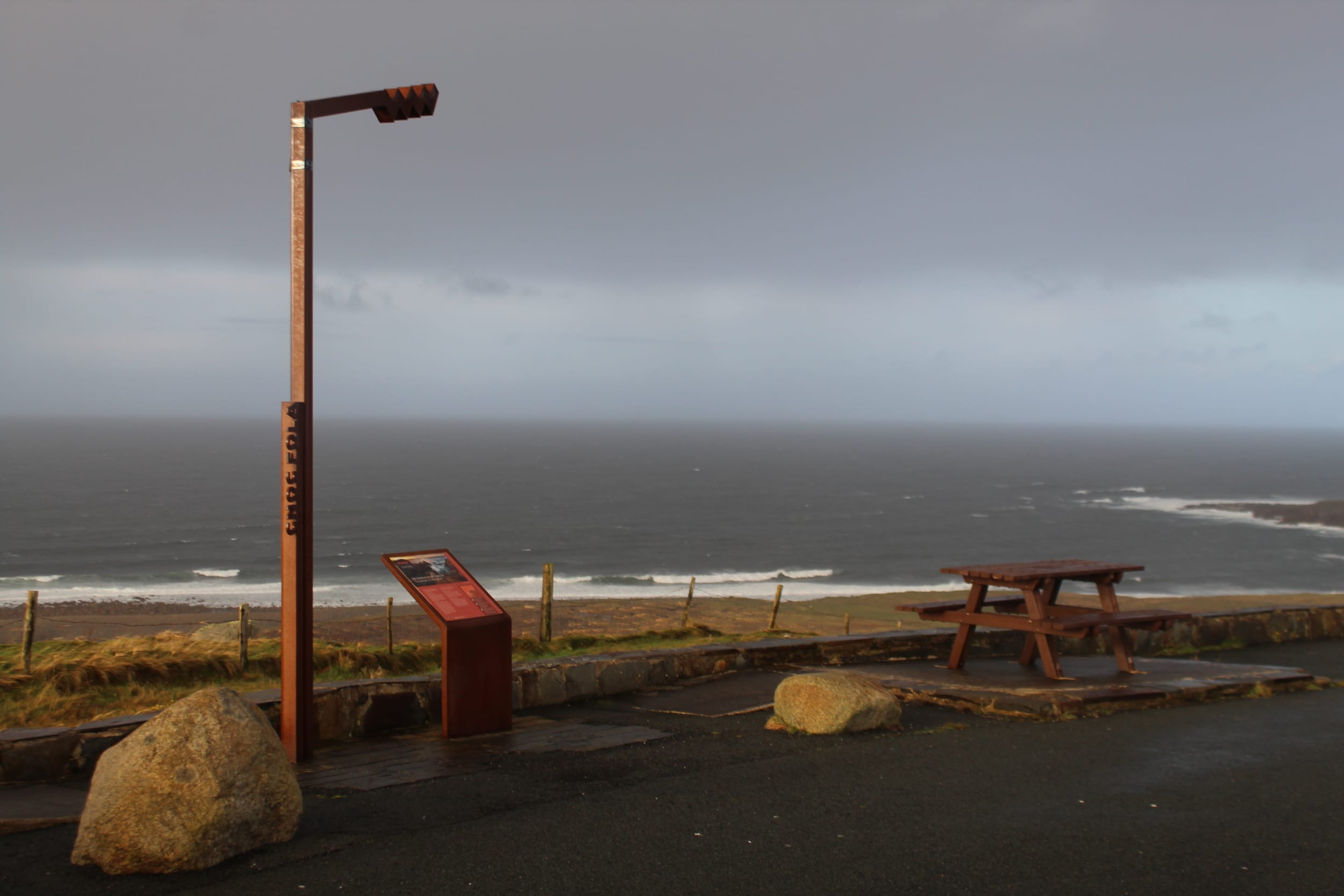 Cnoc Fola
(Bloody Foreland)
by Elena T.
Cnoc Fola: A Hill of Beauty and Mystery on the Wild Atlantic Way
Cnoc Fola, which means 'Hill of Blood,' is one of the 39 Wild Atlantic Way discovery points just 10 kilometres from Bunbeg. This place comes from the setting sun enhancing the natural red colours of the granite cliffs, creating a spectacular sight that will take your breath away.
To reach the Cnoc Fola Discovery Point, visitors can take a scenic drive up the hill, where they will find a metal sign welcoming them to this incredible destination. From there, they can enjoy a stunning view of the Atlantic Ocean.
While the view alone is worth the visit, the site also offers picnic benches for those who want to stay awhile and enjoy the beauty of the surroundings. Visitors should be prepared for strong winds and cooler temperatures, so bringing a hot drink and warm clothing is highly recommended.
For those who want to explore further, the nearby Bloody Foreland beach is just a short walk away, with a marked trail that leads to it. The beach is a beautiful spot to watch the waves crash against the shore and perhaps even dip in the chilly waters.
More adventurous visitors can attempt to visit the sea arch located north of the beach. This natural wonder is visible during low tide and is an excellent challenge for hikers and climbers alike.
In conclusion, Cnoc Fola is a magical and mysterious place not to be missed along the Wild Atlantic Way. Its stunning natural beauty, panoramic views, and unique geological features make it an ideal destination for anyone seeking a sense of wonder and awe in their travels. Whether you are a solo traveller, a family on vacation, or a group of friends, Cnoc Fola is a must-visit spot that will leave you with unforgettable memories.
Pictures by Elena T.


Distance from:
Letterkenny - 57.9 km
Buncrana - 99.1 km
Bunbeg - 10.0 km
Donegal Town - 98.6 km
Derry - 56.7 ml
Visit more Wild Atlantic Way places in Donegal