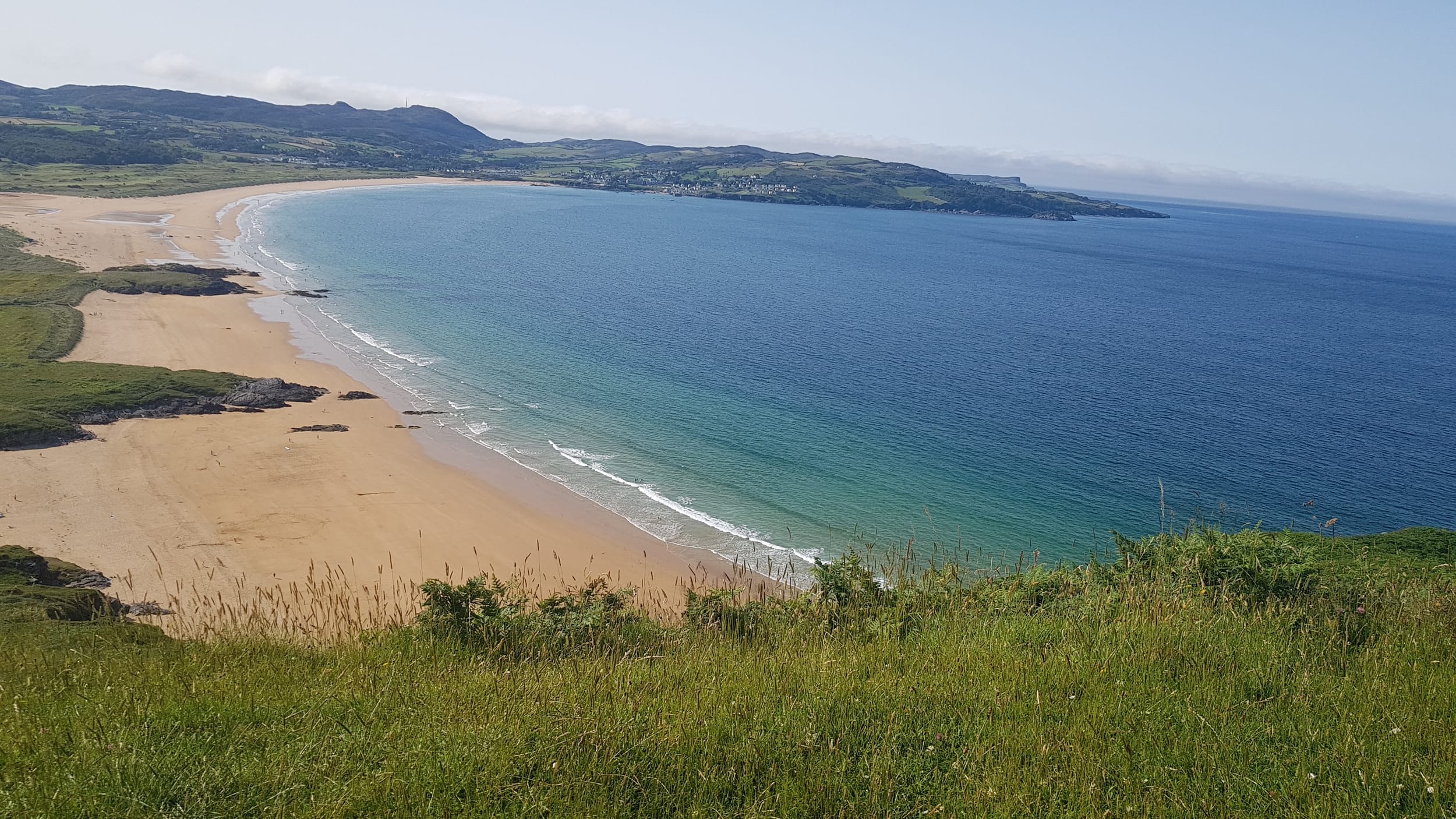 Ballymastocker Strand, Fanad
Trá Bhaile Mhic an Stocaire
by Elena T.
Discovering Ballymastocker Strand: A Treasure of Donegal's Wild Atlantic Way.
Ballymastocker Strand, also known as Portsalon beach, is a stunning blue flag beach located on the eastern shore of Lough Swilly in County Donegal. It's considered one of the top beaches in Donegal, offering breathtaking views of the Fanad Peninsula, Murren Hill, and the beach itself. Whether you're seeking a relaxing walk, family day out, romantic stroll, or a fun beach party, this golden beach is sure to satisfy you.
Location and Features
Ballymastocker Strand is undoubtedly one of the finest beaches in Donegal, earning its blue flag status. Nestled on the eastern shore of Lough Swilly, south of Fanad Head and north of Rathmullan, this beautiful bay lies between Portsalon's town-land and Knockalla Mountain. As one of the 39 Wild Atlantic Way stops in Donegal, Ballymastocker Strand offers breathtaking views of the Fanad Peninsula, over the beach, and Murren Hill from the viewpoint marked above.
Activities and Safety Tips
Ballymastocker Strand is a versatile beach that caters to all your beach needs. Whether you're looking for a peaceful stroll along the edge of the water, a fun-filled family day building sandcastles, a romantic walk with your significant other, or even a lively beach party with friends, this magnificent golden beach is the perfect spot. However, it is important to exercise caution and check the swimming conditions beforehand. Lifeguards are on duty from June to September to ensure safety.
While the beach itself is a spectacular attraction, the scenic route to the viewpoint is equally enchanting. The views on the drive will leave you spellbound, and the beauty is awe-inspiring no matter the weather. So, whether you plan to visit the viewpoint or soak up the sun on the beach, the journey to Ballymastocker Strand is a feast for the eyes.
So, pack your sunscreen, bring a towel and plan your visit to Ballymastocker Strand, one of Donegal's finest treasures.
Pictures: Dalia T.
Tips for Visitors:
Check the weather and tide conditions before going for a swim or any water-related activities. Always pay attention to any warning flags posted on the beach.
Bring plenty of sunscreen, hats, and sunglasses to protect yourself from the sun.
Don't forget to bring water, snacks, and other essential items, as there are no shops or restaurants nearby.
Be respectful of the natural environment and dispose of any trash properly.
Take a scenic drive along the coastal road to the viewpoint above the beach for stunning views of the surrounding landscape.
If you plan to visit during peak season, arrive early to avoid the crowds and find a good spot on the beach.


Distance from:
Letterkenny - 30.7 km
Buncrana - 71.4 km
Bunbeg - 62.8 km
Donegal Town - 79.2 km
Derry - 40.2 ml
Visit more beautiful beaches in Donegal